Barry Kunselman | 303.887.0588 | Contact Barry 
The 13th annual Denver Restaurant Week, a ten day stretch that takes place from February 26 through March 6 is upon us. Denver Restaurant Week is a celebration of the culinary scene in Denver. Participating restaurants will offer a multi-course dinner for some very tasty prices: $25, $35 or $45 depending on menu.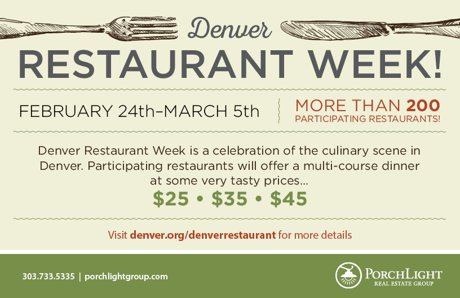 When Denver Restaurant Week started in 2005, dinner was priced at $52.80 per couple and remained that way until 2014; in 2016, as in the previous two years, dinner is a flat $30 for one. This year, event organizer Visit Denver offered dinner for one at $25, the lowest ever offered for the event, below the $26.40 set in its first nine years.
Richard Scharf, president and CEO of Visit Denver, said the number and varieties of restaurants have grown over the past 13 years, since the event was created.
"We wanted the pricing structure to reflect the entire culinary scene," Scharf said. "The low-, mid- and higher-range options allowed the flexibility for even more restaurants to participate, and the prices make it easy for diners to experience more of everything that Denver has to offer."
Experience more of everything that Denver has to offer. Give your tastebuds a gourmet treat at your favoritte restaurant or try the amazing menu selection at emerging hotspots The participating restaurants are spread throughout metro Denver and offer a wide variety of choices, including American, Asian, Brazilian, Caribbean, barbecue, contemporary, brew pubs and more. 
Here's a full list of the more than 200 participating restaurants. To check out menus or reserve a table at your favorite, visit denver.org/denverrestaurant
 You Might Be Interested In: