Barry Kunselman | 303.887.0588 | Contact Barry
What do you and your family plan to do in the New Year? Make the start of 2019 a day to remember with these family-friendly activities in Denver! Have fun and be safe out there. Click on the pictures below for more information.
DOWNTOWN DENVER RINK AT SKYLINE PARK
WHEN: Nov. 20, 2018–Feb. 3, 2019
WHERE: Skyline Park, the corner of 16th and Arapahoe
Grab your family and friends and head to 16th and Arapahoe in downtown Denver to the Downtown Denver Rink at Skyline Park. Skate rentals are $6-$8, or bring your own pair and take a spin on the ice for free! Free days for kids will take place throughout the season. Look for regularly scheduled entertainment and activities each week including Friday night DJs; Saturday morning skating lessons; Saturday night concerts; and Sunday afternoon family entertainment.
A HUDSON CHRISTMAS
WHEN: Nov. 23–24, Nov. 30–Dec. 2, Dec. 7–9, 14–24 and 26–31, 2018
WHERE: Hudson Gardens & Events Center
Bundle up for a visit with Santa at Hudson Gardens in Littleton. After sharing your list with Ol' Saint Nick, sip hot chocolate as you stroll the outdoor paths lined with trees decked with more than a million twinkling lights.
ZOO LIGHTS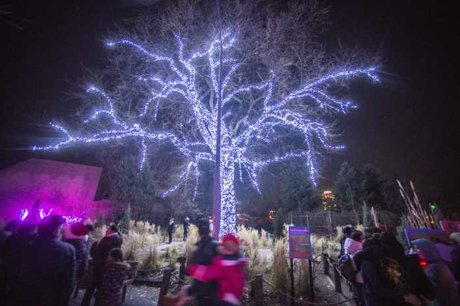 WHEN: Nov. 30, 2018–Jan. 6, 2019
WHERE: Denver Zoo
This New Year's Eve, take the kids on a safari through the Denver Zoo, where you'll spot more than 150 illuminated animal sculptures, from swinging monkeys to jumping kangaroos.
DENVER PAVILIONS HOLIDAY CAROUSEL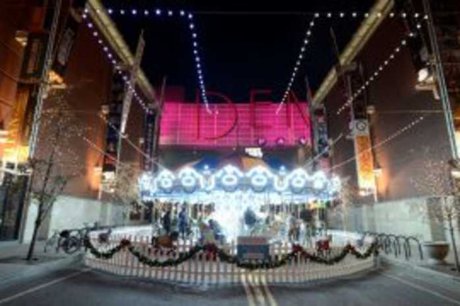 WHEN: Dec. 15, 2018–Jan. 2, 2019
WHERE: Denver Pavilions
Create Memories for years to come at the Denver Pavilions beautiful downtown Holiday Carousel. Throughout December, families can enjoy the magic of the holidays from the perch of a horse on a beautiful carousel. $3 per ride.
NOON YEAR'S EVE
WHEN: Dec. 31, 2018
WHERE: Children's Museum of Denver at Marsico Campus
Children can experience the excitement, thrills and festive fun of New Year's Eve in Times Square right here in Denver — all before bedtime! Noon Year's Eve celebrates the New Year with glittery ball drops, rainbows of confetti and huge sheets of bubble wrap (the museum's version of fireworks) for kids to stomp on. After the ball drops, the celebration keeps going with sparkling art projects and heaps of activities on the plaza.
ZOO YEAR'S EVE
WHEN: Dec. 31, 2018
WHERE: Denver Zoo
The evening features fun activities for the entire family and an early New Year's Eve countdown at 9 p.m. so your little ones can enjoy the holiday and still get home for bed early.
YOU MIGHT BE INTERESTED IN
Cliff May Homes in Denver's Harvey Park